sorry for this one. but arashi fans might be interested in getting this.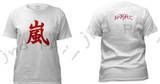 je shirts for sale! selling for only 750php (or 18 usd) ! (shipping fee not included)
visit us at:
http://johnnynodepato.multiply.com
for more shirts!
fan-modified concert shirts! "arashi/kat-tun/news is love" shirts! shirts with official johnny's logos! arashi, news, kat-tun, kanjani8, hey! say! jump shirts.
deadline for filing of orders (for first printing) is on august 31, 2008! hurry!
again, that's http://johnnynodepato.multiply.com
e-mail us at: johnnynodepato@hotmail.com
thanks for the slot! :)