Hello everyone!
To commemorate the 10th anniversary of our 5 adorkable boys, Indonesian community for Arashi's fans is holding a gathering, all fans around in the proximity are welcome to join the crowd. The event is designed to be a mixed of sports day and charity event.

About the event: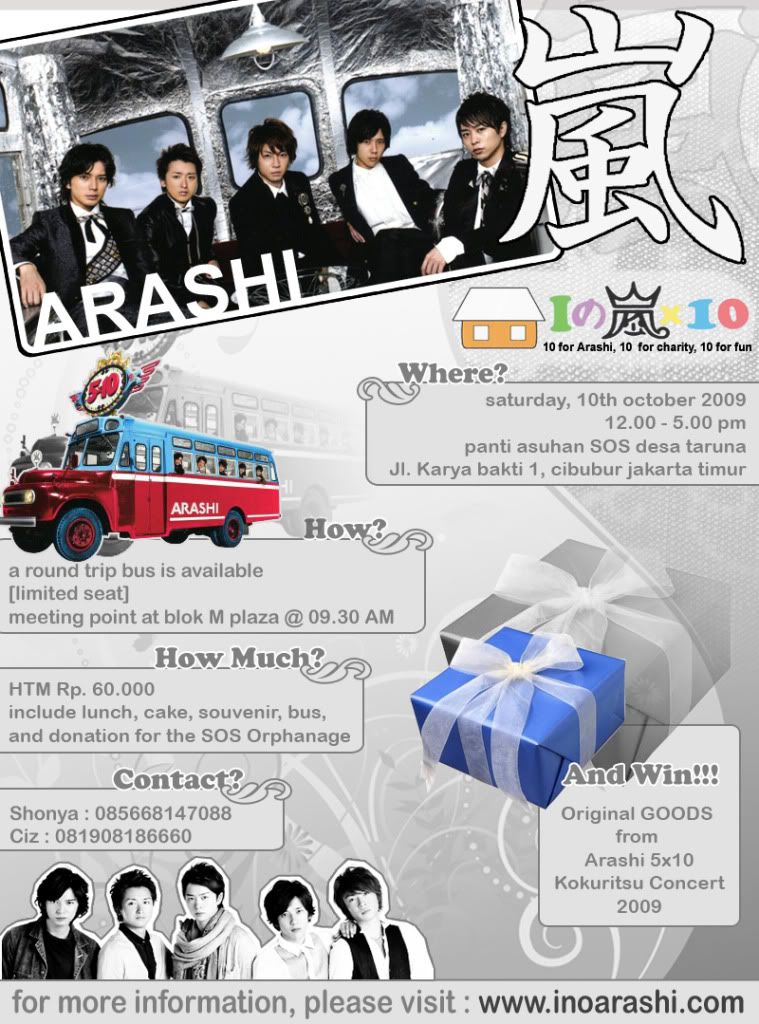 INAx10 Gathering
10 for Arashi, 10 for Charity, 10 for Fun
Saturday, October 10th, 2009
12h00 ~ 17h00
SOS Orphanage
Cibubur, East Jakarta - Indonesia
Dresscode: SPORTY FOR FUN
10 for Arashi...
very straight forward, as the main purpose of this event is to commemorate 10th anniversary of a group we all adore.
10 for Charity...
because Arashi had not only taught us that it is normal for idols to wear stocking on their heads, or that it is okay for a well-known boyband to wear nipples-showing T-shirt on national TV. The also taught us to be grateful for the people that has support us, to love the environment, and to show love to others. And since we're commemorating a major milestone in their career, we feel the urge to share what we got even more. Hopefully it's not just a big fun gathering, but also meaningful.
10 for fun...
'coz where there'll be arashi-related things, there'd bound to be fun!
THE EVENT IS OPEN TO ANY FANS (INDONESIAN OR NOT) AROUND THE PROXIMITY!!!
For more information:
http://community.livejournal.com/i_no_arashi/
http://www.inoarashi.com/
http://www.facebook.com/photo_search.php?oid=132666464794&view=all#/event.php?eid=132666464794
Contact Person:
Shonya : +62856-68147088 or sonya8890@yahoo.com
Ciz : +62819-08186660 or ciz_mikagami@yahoo.com


p.s: and if you can not join the fun and want to donate for the charity, whether it's used books, decent used clothing, etc, you could still participate! Just drop a message or two to the contact persons above!