United [5x10] States of Arashi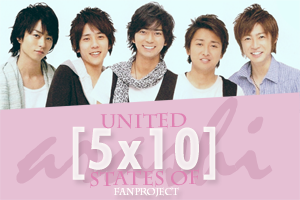 Fan Project Scrapbook!
So, as you know, Arashi is celebrating their 10th year anniversary this year!!! And being from the United States, an ocean away on both sides, why not let your voice be heard?! What we will be doing is forming a PowerPoint that will be burned onto a CD/DVD and given to Aiba Masaki's mother in Keikarou, their restaurant, by our Secret Agents E and D! So are you interested yet?! Want to participate in the fun?!
Here's what you need to do and the rules to follow!

Approved by:
gimmick_game