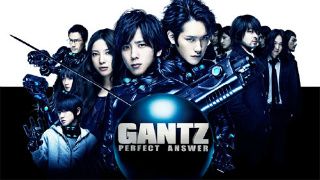 More info: Gantz Perfect Answer
It will be shown during J-POP Summit in San Francisco on August 27 - 28, 2011. No words yet on when the show time is, but I will try to update when new informations are released. Not only that, they're going to hold a [
GANTZ DVD & BLU-RAY Release Event
] on
Saturday, August 27
Friday, August 26.
Insert taken:
Come celebrate the DVD and Blu-ray release of NEW PEOPLE Entertainment's newest film GANTZ by watching it on the big screen! Get a great deal by buying the special bundle tickets that include the brand-new DVD or Blu-ray plus a poster!
Since NY got their chance to see the 2nd movie, it's SF's turn. I am definitely going. Anyone else going too?
[Update as of July 12] It will also show in San Diego on July 23, around the same day for anyone attending SD International Comic Con. More info on ANN:
Gantz Films Shown During Comic-Con Int'l in San Diego
[Update as of July 13] New People decided to change the dates so the release event is on
Friday, August 26
instead.
Gantz Perfect Answer will show on Saturday, August 27.
No show time yet.